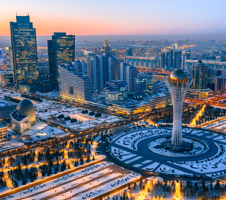 By Sharif Akram

Black and Living in Kazakhstan
I consider Kazakhstan a hidden gem. This country definitely has a special place in my heart.
Kazakhstan is the ninth largest country in the world with a population of only 17 million people. It is the largest country in the world not to touch an ocean. In the western world, we never hear about this country except the movie "Borat" or the boxer Triple "G."
This Post Soviet nation is located west of China; south of Russia; north of Uzbekistan, Turkmenistan and Kyrgyzstan; and to the east of the Caspian Sea. The collapse of the Soviet Union in 1991 led to a handful of "new" countries - Kazakhstan being one of these nations.
FYI – American citizens do not need visas to enter Kazakhstan or Kyrgyzstan. We are allowed to stay in these nations for 15 and 60 days visa-free, respectfully.
The primary language is Russian; however, Kazakh is the official language – which has Turkish origins. The government has mandated that schools teach Russian, Kazakh, and English. Mostly younger and educated residents of this country are tri-lingual.
Currently, there is great economic development in Eurasia sparked by the Chinese - One Belt One Road Initiative. Perhaps this is the greatest modern logistical development in the world. Freight can now be shipped via railroad from England to Eastern China with a lead time of about 20 days.
This route cuts directly through Kazakhstan.
In fact, China and Kazakhstan agreed to create a Free Economic Zone on the border that will act as a gateway to Central Asia. This newly developed neutral territory, Khorgos, is projected to be the largest dry port in the world by 2020 – potentially trillions of dollars will flow through this port.
DP World is one of the major players developing this dry port as they are providing consultation to one of the managing companies located on the Kazakh side – SEZ Khorgos – Eastern Gate, which is a subsidiary of KTZ Express and Samruk-Kazyna. The operational scheme emulates Jebel Ali and London Gateway.
Kazakhstan is a mineral rich nation. The mining industry will be worth $30 billion by 2017. One of the largest exporters of uranium – approximately 15 percent of the world's supply and home to the largest oil field outside of the Middle East – Kashagan Field.
This reservoir sits about 17,000 feet below the Caspian Sea. This field is run and operated by NCOC (North Caspian Operating Company). After years of setbacks due to its sour content and tens of billions of dollars spent, this project is finally online.
Nearby, the Tengiz field operated by Tengizchevroil is another massive operation. In 2016, Chevron (which holds 50 percent interest in Tengizchevroil) approved the Future Growth Project – Wellhead Pressure Management Project (FGP-WPMP) valued at $37 billion.
This is in the midst of other major oil companies selling and liquidating their assets because of low oil prices. FGP-WPMP will increase output by 260,000 barrels per day, and first oil is scheduled by 2022. What I have come to learn, the oil and gas industry is cyclical. It is not going anywhere. Tesla is no threat. The automobile industry accounts for 2 percent of the global oil and gas industry.
The global demand has steadily increased by 1.5 to 2 percent annually. There is not a known battery strong enough to power airplanes, massive cargo ships, military vehicles, and the heating of buildings. Environmentalists, nice try. AND Energy ETF's are lower than average right now. You are welcome!
The currency is called Tenge and the exchange rate is about 314 KZT to 1 USD. When I first arrived in 2016, the exchange rate was about 380 KZT to 1 USD. My friends in Atyrau told me, at one point, it was hovering at 180 KZT to 1 USD then the currency sharply devalued to the 300 range in the span of a month.
This affects the prices mostly on imported items. Most FMCG, for example, are imported. Kazakhs generally do not trust their own products, and they prefer imported products.
For distribution purposes, Kazakhstan is divided into three sections. The western section with cities like Aktau and Atyrau near the Caspian Sea. The central section of this nation is where Astana, the capital, is located.
Currently, the largest tallest building in Central Asia is under construction in Astana – Abu Dhabi Plaza led by CCC (Consolidated Contractors Company) and Arabtec. The eastern section is where Almaty, the largest city, is located. Each has its own climate. The western side is a desert. Dry during the summer. When it rains, it is muddy. The absolute worse. The central basin is frigid during the winter, and harsh during the summer. This area of the country is virtually flat. The eastern oblast is rugged and mountainous. Trees are plentiful. Very beautiful!
Distribution can be a challenge for companies wanting to enter Kazakhstan due to the following 1) The large geographical size and low population densities outside of major cities 2) Infrastructure 3) Climate extremes. There are two strategies to deal with this. One is to find a distribution partner in each region and work with each separately. The second is to work with national distributors such as Uni Commerce or Turkuaz. Companies such as Nestle have their own DC's in strategically placed regions to ensure on-time deliveries. Lead time within Kazakhstan is about three weeks.
However, 3PL's such as DHL have presence. UPS and FedEx just recently expanded to Kazakhstan. Deliveries to homes are slow, and can be quite expensive if it is international shipping – sometimes as much as the product. Cash on delivery is an option, as a majority of residents do not use bankcards.
There is no firewall, however, I still have a VPN – I recommend Astrill. There may be an app or website that may not work, usually at random. Just turn on the VPN and you are fine. You can go to any phone store and buy a SIM Card for your American phone. Very cheap. About $20 will last the month, but this depends on usage.
You will have 3G service in the west and 4G in the central and east. The internet speeds are no different from being in the US. Their unofficial country code is +8, the official is +7 – like Russia. When you receive a phone number, the giver may use 8 as the country code. WhatsApp on my phone does not recognize +8, so I substitute with +7. I have a local work phone and I can use +8 to make calls.
Navigation is generally easy in Almaty. Uber works there. It is about $2 - $4 to get around Almaty. However, Google Maps and the Uber maps are terrible! There is a website and app called 2Gis. This is the best map for Almaty and Astana. Very reliable and accurate.
In the western part of the country, taxi is the only option. This is the downside. They generally try to exploit expats and charge more. Negotiate before you enter a taxi. Rides around Atyrau should be about 500 – 700 KZT. One thousand is pushing it and anything more is robbery. I stay away from taxis in Almaty and only use Uber. Taxis prices in Almaty are double what they are in Atyrau.
Visa, Mastercard, and AMEX work in Kazakhstan. I cannot verify Discover, as I do not have a Discover card. I generally do not experience issues at the ATM. Once in a while I do, but more ATM's accept American bank cards than those that do not.
When you go out to dinner or lunch. Do not tip. It is not needed. This charge is included in the check and the amount generally goes to the "house." Waiters and waitresses are on salary.
On my first trip, I was nervous as I have sensitive skin at times which can cause eczema flair ups. One store I recommend in Kazakhstan is Ramstore. This is a chain of grocery stores. I generally buy baby detergent, baby soap, and baby oil – which are made by Johnson & Johnson. I have not had one flair up in my two rounds in Kazakhstan. My skin will get very dry during the winter. This varies per person. I have heard of horror stories. I just have not experienced this myself.
As far as toothpaste, lotions, floss, shampoo, etc. They are all sold at grocery stores. Floss is actually sold at pharmacies. No need to pack these items unless you have something specific you want to bring. These items are generally inexpensive. Drycleaners and barber shops are there too. I have received haircuts numerous times. Hospitals are sterile and they provide great service if an emergency occurs.
I was quite surprised because in Almaty, you can drink from the tap. My coworker told me this and I looked at him like "Yeah right!" In fact, the water in Almaty comes from the mountains. Very pure. Now, in the western region. Do not drink the water from the tap! That water contains harsh chemicals. I even heard of the water being laced with anti-freeze.
Fashion is Kazakhstan is mostly exhibited by the women. They take great pride in their looks. The women are beautiful and very nice by the way, Russian and Chinese fusion. In general, Kazakhs are nice people. In Almaty, both sexes dress well. They like popular designers. The prices are more expensive then what we pay in the US, up to 200 percent more. I saw stores not available in Miami, at least, such as Koton, Pull & Bear, Bershka, and LTB Jeans that sell amazing products.
As an expat, I highly recommend, do not visit clubs by yourself or with a group of expats. Befriend a local male who speaks Russian. This is your shield of protection at clubs. Kazakhs and Russians drink and drink a lot (liquor is cheap by the way - a bottle of local cognac or vodka may cost less than $8 at a grocery store). This may place a target on your back if you are alone or with other individuals not from this region, be mindful. You have to respect them, first because you are in their country and secondly because they had to fight for everything they have. Respect Kazakhs. They are tough people and they pride themselves on this.
It is safer to walk on the street at night than it is to be in clubs alone or without some level protection. I have heard stories, but I have never once experienced something dangerous in the street. I have been in unfamiliar areas at night in Almaty, and felt perfectly safe. Although it may be fun to go with women to the clubs, as I love to, they cannot protect you.
Generally, just exercise common sense, and you will be perfectly fine.
To anyone reading this, I want to dispel this vision that you may have of this region of the world. As an African American working in a Post-Soviet state, my experience has been quite unique. Frustrating at times, yes, also beautiful at times, yes. People will stare. This stare is more like intrigue. Let's just be real here, very few African Americas visit this country especially at 32 years of age!
In America we are still recovering from the attacks on September 11th, and people hear the word "Stan" and associate this country with "Radical Islamic Terrorism." In fact, they are worried about their security and terrorism too.
This is an Islamic country and, until you experience visiting one, it is difficult to deprogram the propaganda we as Americans have been fed for many decades. I have one word for this country – safe. Matter of fact, safe as hell! Unfortunately, we have a president that ran a vitriolic campaign propelling xenophobia and surfacing the hatred of people from this region (possibly for marketing reasons, but that is a different discussion).
Why do I travel here? I work for a Kazakh based company. I deal with business planning, development, research, public relations, and act as a liaison to US based companies. I wear different hats and my role extends into China (another completely different article). I work on rotation, so I float between Kazakhstan, China, and the United States.
I love what I do, and I have made wonderful and diverse friends from all over the world in the process.
Keep in contact with Sharif Akram:
Instagram – @s2x777
LinkedIn - https://www.linkedin.com/in/sharifakram/
WeChat – sharif_akram