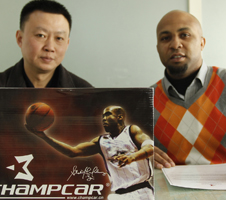 By Cyril White
Founder/Managing Director of To God be the Glory (TGBTG) Sports
a Texas based corporation that works with aspiring athletes in the USA, China, India, and other parts of the world. He has combined his passion for sports and knowledge of foreign culture to create a company that has established a track record of effective results and international goodwill.  His company was featured in the Wall Street Journal and the New Yorker Magazine for their unique achievements in the international sports world. White graduated from Lamar High School (HISD) in 1992 and earned a full basketball scholarship to Texas Lutheran University. He completed his B.A. of Communications from the University of St. Thomas in Houston, Texas.  

   White got his start in college coaching on the Women's Basketball staff at Angelina College and, one year later, was hired as a Student Assistant Coach at Rice University. The next year, White opened the TGBTG Sports Company which consisted of high level sports training camps, and college/professional exposure events to target markets. TGBTG Sports secured contracts with the WNBA Comets for 4 years providing male scout teams, over 60 NCAA athletic programs for exhibition games, and Comets for 4 years providing male scout teams, over 60 NCAA athletic programs for exhibition games, and entered the international sports market when White began going overseas to play professional basketball. From 1998-2004, White played professional basketball in Panama (1998 & 2000), China (1999-2003), and Nicaragua ( 2004), allowing the TGBTG brand to expand into these international markets.    
   White hired 2 Mandarin tutors in 2005 to work with him one on one for 10 months to learn how to speak Mandarin to provide better service to clients. He also maximized the opportunity for TGBTG by securing a 10 year contract in China for TGBTG to bring professional level teams for tours in over 50 cities in China. 
   White and his associates have brought hundreds of athletes to China pro sports, and have created over $150 million in overseas contracts value for TGBTG athletes and clients during that time period.   TGBTG can set up manufacturing deals for new products, arrange distribution in cites in China, arrange new product design, advise on business practices in China, and other added value services to come from over 15 years of doing business in China.   
   White's brand has manufactured, licensed and distributed custom lines of shoe products in China since 2004, and advised other companies on similar ventures. His company designed and built the To God be the Glory Center, a $3 million, 22,400 square foot multi-purpose center in 2008, located in Houston, Texas near Hobby Airport. The state-of-the-art facility designed for sports training is also a church, conference center, training venue, and emergency evacuation shelter.  It has been the host to several sports events, community affairs, and church services. In 2010, White was hired by former NBA Star Stephon Marbury as a project development consultant for the "Starbury China" brand, a brand that has now become one of the biggest brands in China sports market.   
   Two years later in Beijing, White worked to create the Stephon Marbury Basketball Academy through special partnerships in China, bringing dozens of foreign coaches to China to train young athletes, and setting up other foreign exchange programs. 
   TGBTG has worked with several athletes at all levels to help them achieve their individual goals and maximum success. White says, "I'm in business to serve, to help people reach their goals according to the resources available to me."  The company has offices in Houston, Texas, Shanghai, and Beijing, China.